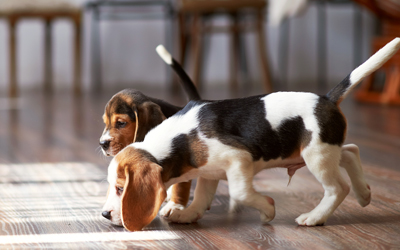 When you have pets in your home, you have to consider for the flooring that your pets feel comfortable. The pets often scratch on the floor, runs anywhere in your premises, and their hair or stains can be problematic to you.
So, if you are planning to renovate your home floor and want it to be pet-friendly, make sure that your floor has the below qualities.
Qualities Of Pet-Friendly Flooring
Scratch Resistance: Almost all dogs and cats have sharp nails. Using this, they often damage your floor. So, make sure your floor should be scratch resistant.
Stain Resistance: Pets often spill the coffee and wine on the floor. Instead of finding the solution to remove the dirty stubborn stains, install the stain resistance flooring at your home.
Pet Comfort & Safety: Some floor types offer little traction that leads to slipping and injuries. Keep the safety and comfort of your pets in your mind while choosing the floor for them.
Types Of Pet-Friendly Flooring
Vinyl flooring is stain resistance
Laminate flooring can resist nail scratches
Hardwood is another most recommended pet flooring
Ceramic & Porcelain tiles can not be damaged easily with the liquids.
To know more or to shop for durable and trendy flooring for your home, reach us at Best Tiles & Flooring. We are the premier tiles, interior door and floor supplier in the GTA. Visit our showroom to view our comprehensive collection of flooring products and material.