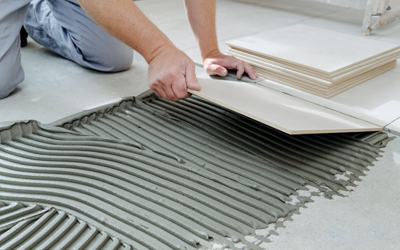 Tiles are the durable form of floors that you should consider installing due to extra durability they offer. There are several types of tiles available in the market, such as ceramic and porcelain tiles. If you are planning a new floor installation or replacement, tiles are one of the long lasting investment a homeowner can make. They not only improve the appearance of your interiors but also offers easy cleaning.
Some other reasons to opt for porcelain tiles for floor installation includes:
They are harder and denser compared to other tile products.
Porcelain is an extra durable material that is resistant to wear and tear.
Their hard surface provides them protection from cleaning agents, scratches, fades, texture loss and stains.
Porcelain tiles are available in a variety of colors, designs and textures to choose from.
These tiles are available in an endless collection of styles.
Professional floor installers can create any design from porcelains, such as wood grains and marble patterns.
Porcelain tiles are resistant to frost and are anti-slippery.
They are an ideal option for floor installation in spaces with heavy foot traffic.
These tiles contain less clay and mineral which in turn provides high breaking strength.
Porcelain material is easy to clean and moisture resistant.
With a low water absorption capability, these tiles do not suffer from mold or mildew growth.
These tiles are easy to maintain and exhibits a clean look every time.
Porcelain does not require any polishing, waxing, or sealing.
If you are planning to install porcelain tiles or tile floor in GTA, rely on Best Tiles & Flooring. We have a collection of modern styled tiles and floors available at reasonable costs.