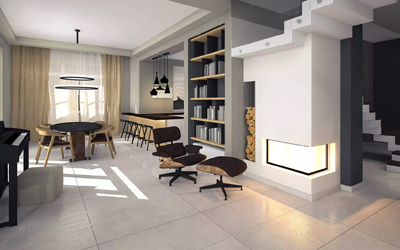 When it comes to choosing one from ceramic and porcelain, you will get confused. However, there are plenty of noticeable differences between them, they both almost look similar. For an individual, the porcelain tiles are famous for being denser and less porous.
People must be aware of their unique characteristics so that they can choose the one which meets their needs. So, here is complete information about both types of tiles.
Porcelain Vs Ceramic Tiles
Both tiles are a part of the same family that is called ceramic. The difference between them is, ceramic is available as the naturally colored and left unglazed like terra cotta. It is pressed under the lower pressure and fired at the lower heat while porcelain composed of fine porcelain clays is fired at the extreme heat.
Key Features
Porcelain Tiles

Denser and water-resistant
Have much less rate of water absorption
More resistant to stains and scratches
Don't burn easily
Stand for long-lasting decades.

Ceramic Tiles

Less impenetrable than porcelain, so it is easy to cut
Prone to crack in the winter season.
Colors don't fade away when exposed to sunlight
Ceramic tiles are less expensive than porcelain
Similarity
Both ceramic and porcelain tiles are durable.
Play an equal role to enhance the curb appeal of your home.
They need to be sealed to extend their life.
Which Should I Choose?
Porcelain tiles can be chosen for indoor, outdoor, hard wearing and high traffic areas because these are less resistant to chipping and scratching. The ceramic tiles are especially recommended for the interior of your premises.
Still, if you need professionals help in choosing the right one, call us at Best Tiles & Flooring. We are the leading floor suppliers in the GTA. We offer high quality and durable tiles to our residential and commercial clients.