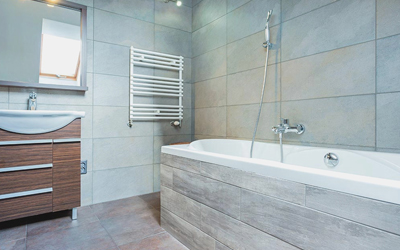 As compared to other parts of your home, tiles in your bathroom are often overlooked as long as you don't have any damaged or cracked tile. Though tiles are durable, they need little maintenance to last for more years to come.
It is necessary to notice the signs indicating to replace your tiles on time. Otherwise, you may later face costly repair.
Signs To Replace Your Bathroom Tiles
Stained Tiles
If your bathroom surface has got the stubborn stains which don't look great and affect your bathroom appearance, then consider changing your tiles. You can install the tiles that are low maintenance and easy to clean.
Discolored Grout
Over time, your bathroom tiles grout can get discolored, and it mostly happens with the old or low-quality tiles and grout. Sometimes, cheap cleaning products also result in grout discoloration. To make your bathroom look elegant, consider re-grouted.
Mold Growth
Mold growth in your bathroom not only affects your bathroom appearance but also impact human health, particularly to the people who have Asthma. It even causes the musty odor, and people start to use the products to improve odor while it is a result of naturally wet environment. There should be no place for mold and mildew growth in your bathroom or the entire home.
After noticing the symptoms mentioned above in your bathroom, if you are planning to replace the tiles, we are here for you. At Best Tiles & Flooring, we are leading tiles supplier in the GTA. Call us to get quality and durable tiles for residential and commercial premises.